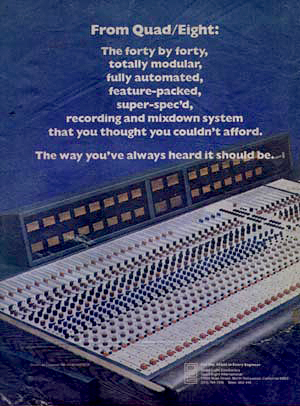 Welcome to our new website.  If you're here, you probably know that Quad Eight Electronics built very high quality audio consoles and outboard processing for the recording and post production industries from 1962 to the late 80's, and is now back in business as a limited custom products manufacturer.
This web site will feature the latest products from the newly reformed company, Quad Eight Electronics LLC, who provides repair parts and repair and/or restoration services for original Quad Eight™ products, documentation and tips on restoring and revitalizing classic Quad Eight™ gear.
If you'd like to be a part of the family, email pics of your Quad Eight™ gear for the gallery of installs.  If you have any historical information on Quad Eight™  you'd like to share, please email or contact us.  We are still rebuilding the archive with incredible response from the audio community and an amazing collection of past QE engineering staff, but holes in the history remain to be filled.
Thanks for visiting.
Josie Hirsch, President
Ken Hirsch, Director of Engineering
Quad Eight Electronics, LLC
& Orphan Audio, LLC